Momentum Investing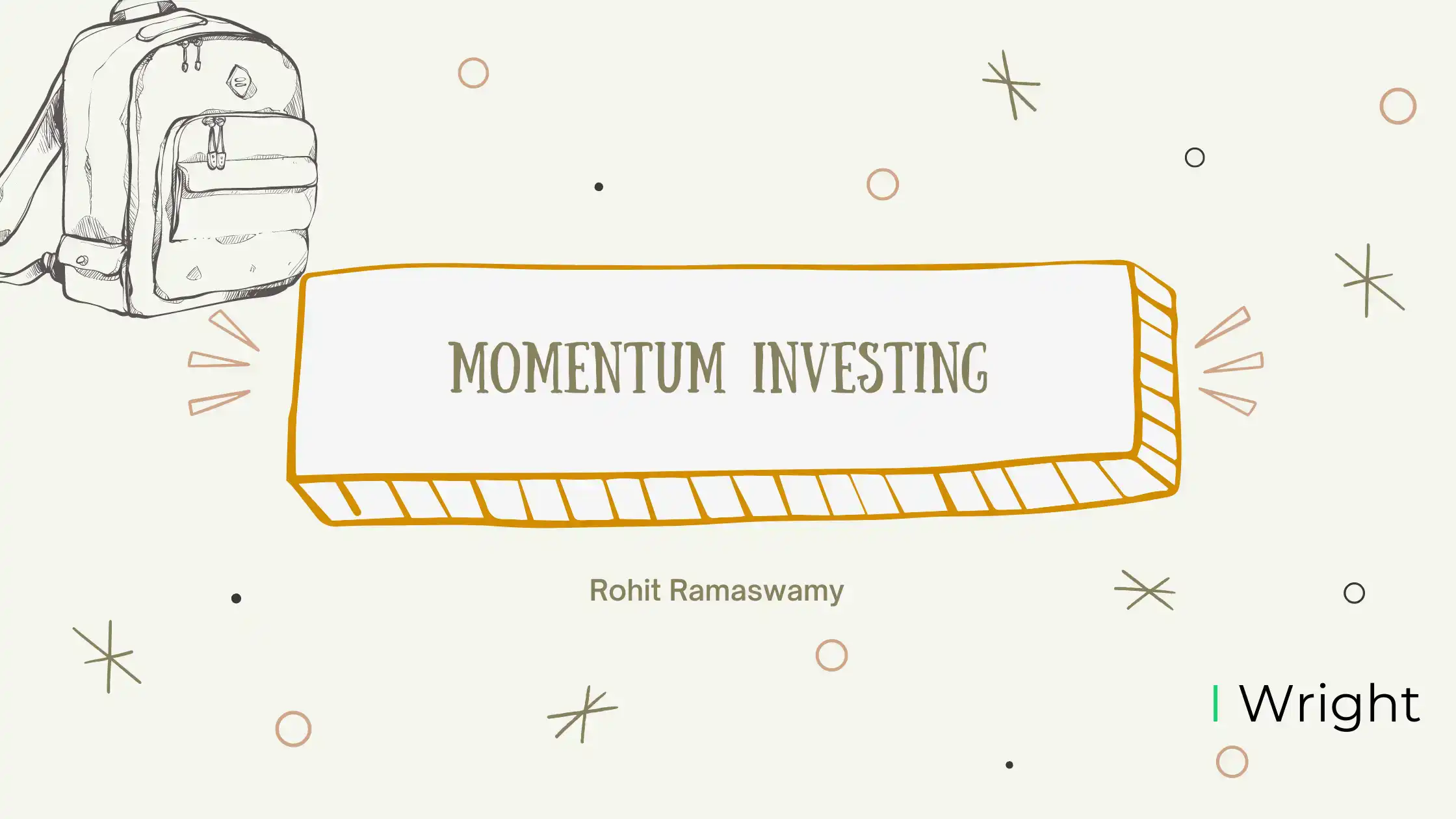 Rohit Ramaswamy | June 7, 2021
The objective of this assignment was to use the Wright Research simulator to backtest strategies based on certain themes (indicators). The strategies implemented could then be evaluated on the basis of the metrics provided by the platform. The platform gave a result in the form of a plot of the portfolio returns against Nifty 50 in the same time period. This plot was normalised at 100 on inception and the return was plotted on the same % scale. The metrics presented to evaluate the portfolio were annualised risk, annualised return, max drawdown and Sharpe ratio. Data was plotted for the range starting from January 2011 to January 2019.
There are four steps needed to form a portfolio. The first step being choosing the universe of stocks, top 500 stocks, large cap and mid-cap stocks. The second step was to choose the sectors and industries the portfolio has to comprise of followed by the third step being to choose the frequency of the portfolio to be balanced. The last step to choose the theme of investing here a combination of factors or indicators can be used which would form the basis of choosing and rebalancing stocks in the portfolio. The other advanced parameters that could be tweaked were normalisation, position sizing and cost.
The objective of the underlying objective of doing so was to maximise the annual return and sharpe ratio while keeping annualised risk and max drawdown down minimum. Going ahead with back testing the underlying theme was momentum investing. Both long-term as well as short-term momentum was considered and that was the theme of this exercise. Coming on to choosing the universe the top 500 stocks were chosen. Since this is a portfolio for investing and not for trading the frequency had to be a higher frequency. Another reason for doing so was to keep the cost of the balance in the portfolio to the minimum hence the frequency was yearly.
When it comes to choosing sectors to be included in the strategy, first each sector was seen individually and the Sharpe ratio was noted for the
Rohit Ramaswamy

Page 1 of 3
MFT 1912

same. A good Sharpe ratio is kept as the first criterion for evaluating the strategy. The Sharpe ratio for the sectors individually was as follows:
This was then used to narrow down on the sectors which were in momentum and gave good results in the time period. The chosen were Automobile, Textile, FMCG and Diversified sectors. Adding on to this, the cross sectional normalisation and inverse vol position sizing was chosen and the results of the bank tested strategy are shown below:
Rohit Ramaswamy

Page 2 of 3
MFT 1912

Rohit Ramaswamy

Page 3 of 3
MFT 1912